Proactive Engagement Empowers Outcomes  
Chronic kidney disease patients depend on their doctors—especially their nephrologists to tell them how to best manage their care. This is particularly true when it comes to protecting their quality of life. Despite the fact that receiving a transplant before dialysis is the optimal path for transplant eligible patients, proactive (early stage) patient education is lacking.
The standard model for CKD patient education is delayed until Stage 4, at the final stages of disease progression when proactive behaviors appear almost meaningless. Likewise, the content is far too basic. In general, dialysis mortality rates, evidence-based findings, preemptive live-donor communication skills and strategies (that could empower patients to make better decisions) are rarely addressed.
Early Education Expands Opportunity
Most in-office CKD patient education is presented by a specialized renal nurse employed by a dialysis center, PA or physicians using educational materials created by large dialysis organizations (LDO's). With that said, it is no surprise that the educational modules are more heavily weighted in dialysis information. Likewise, statistical data or quality-of-life comparisons are rarely discussed in the detail patients deserve.
While some physicians may be able to handle detailed questions during patient appointments, realistically there is insufficient time for those"tough" conversations.  The goal within the TransplantFirst Academy's platform is to empower patients (who appear to be good candidates for a transplant) to proactively seek a living kidney donor transplant in earlier stages of their disease, before dialysis would be required.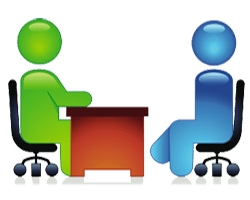 Positioning Best Choices
Furthermore, dialysis is often positioned as the first line of action – like a prerequisite to transplant. Imagine what it would be like if your office positioned preemptive transplantation as a patient's BEST CHOICE; and dialysis as the SECOND BEST CHOICE for those who are not transplant eligible?
Imagine your team motivating your patients to explore the value of preemptive transplantation and living kidney donation opportunities, months or even years before vein mapping appointments? How rewarding would it be to know that your practice encouraes patients to learn more, do more and start advocating for themselves to secure their best outcome?
Well you don't have to imagine this for long if you're willing to make this a reality. You can do this by introducing your patients to the TransplantFirst Academy's innovative  patient education and empowerment program. The TransplantFirst Academy has developed this unique program to help you and your team offer a more advanced platform for accelerated learning and improved outcomes.  Our content-rich and emotionally intelligent learning Tracks allow you and your team to start transforming lives and improving potential outcomes without delay.
The Need To Do More
The Centers for Medicare and Medicaid Services (CMS) already requires dialysis organizations to provide transplant education to their patients, but what does that say for patients who could have circumvented dialysis all together? It's time to help all kidney patients secure their best outcome through (1) Self-advocacy philosophies, (2) Risk, benefit and outcome comparisons between dialysis, and (3) preemptive transplantation and living kidney donation awareness, encouragement and guidance.
Timing Is Everything
The missing link in transplant education is not just about content; it's about timeliness of delivery. Transplant education is traditionally offered closer to the time a patient is nearing dialysis, or after the patient is already on dialysis. Regretfully, this timeline relinquishes the patients right to proactively plan their best future. It takes time to engage, inspire and motivate patients to fight for their best life possible. This, notwithstanding the time it takes to be evaluated for a transplant, and seek and test potential donors particularly when multiple donors must be tested before a suitable donor is approved.
Some Patients Don't Seem To Care
Until kidney patients are given good reason to care more or do more—they'll won't bother. Kidney patients don't know what they don't know. Assumptions about patient apathy or ignorance likely perpetuates the path to dialysis. Yet, when patients discover that they could have pursued a better outcome (before their disease progressed) it is often too late to turn the clock back.
The Patient's Right To Know
At the TransplantFirst Academy, we believe that all CKD patients deserve the right to fully understand the value of circumventing or minimizing their need for dialysis by securing a preemptive (before dialysis) transplant. The TransplantFirst Academy invites you to usher potential transplant candidates to a better and longer life. Even if your patients don't appear to be transplant eligible today, don't they deserve to know about this promising pathway just the same? Information is power. Your team could encourage and empower patient circumtances to change through the hope of a better tomorrow.
Patient Motivation Books – In Pursuit of A Better Life: The Ultimate Guide for Fiding Living Kidney Donors
This newly released book was written to bridge the information gap—by empowering dialogues, expanding outreach and boosting the possibility of good fortune. Readers will be armed with advanced communication skills, sample letters and proactive strategies to increase need awareness and interest in living kidney donation.
Early adopters will ignite their Donor-Magnet® superpowers by enlisting an team of story-outreach spokespersons to help them make their dreams come true. (Released January 1, 2017)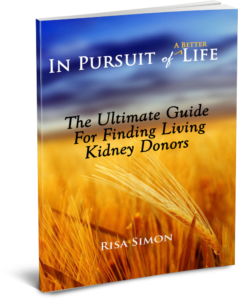 CLICK HERE TO LINK TO BOOK PAGE  
In-Office Patient Education 
The TransplantFirst Academy offers options for patients and practices to obtain a training guide to simplify its three TRACK patient empower program and motivational guidebooks. It's time to proactively encourage patients to focus on what they CAN DO, rather than what they CANNOT. Let's make a difference together. Join the TransplantFirst Academy today.
Learn More Here

MORE EMPOWERMENT BOOKS BY OUR FOUNDER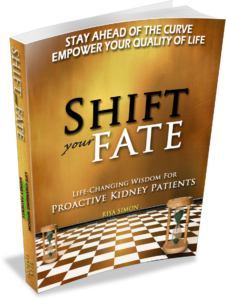 CLICK HERE: SHIFT YOUR FATE VIDEO