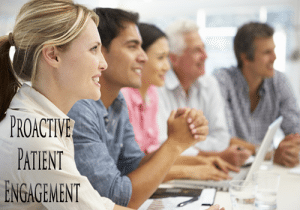 Many kidney disease patients are floating in a sea of uncertainty due to inadequate patient education and various knowledge barriers. Consequently, the patient's understanding of various treatment options and outcomes—and how the timing of engagement can impact each outcome, is often lost in the shuffle of care. With the clock ticking behind the scenes, the patient's inability to trigger optimal timing for best outcomes remains far beyond the scope of their awareness and comprehension.  
Not Sick Enough
Subsequently, when patients are told that they have "lots of time" before they need to consider end stage renal disease (ESRD) options, they fall under the belief that they aren't "Sick Enough" to consider their future or how passive behavior might negatively impact their future options.
The missing link in CKD patient empowerment only exacerbates the patient's inability to proactively seek their best option as time moves on. Dialysis patients who are lucky enough to discover transplant opportunities—before their declining health completely forbids them to be a potential candidate—though this is often not the case. Most dialysis patients, however, end up discovering that they relinquished their right to 'fight for a better quality of life' back when they had a better chance of succeeding.
Asking Key Questions
CKD patients need to become more engaged and advocate for themselves. Asking important questions and contemplating the answers to these questions (long before the patient approaches the need for renal replacement therapy) is key. The questions listed below encourage an open dialogue, while positioning healthcare providers as leaders who guide their patients on a more proactive path to their best life possible.
"

Is Transplant A Better Option To Consider Over Dialysis?"

"

How Do Outcomes Differ Between Dialysis Patients & Transplant Patients?"

"

Do You Think I Could Be Transplant Eligible?"

"

If Not Transplant Eligible, Why Not–And How Can I Improve My Future Chances?"

"

What Should I Do To Secure Long-Term Transplant Eligibility?"

"

What Transplant Centers In The Area Should I Consider?"

"

How Do I Get A Referral To A Transplant Center?"

"

What's The Best Timing For Referral?"

"

How Long Is The Wait On The National List For A Deceased Donor's Kidney?"

"

Are There Long Term Benefits In Getting A Transplant From A Living Kidney Donor?

"

How Would I Ask Someone To Consider Being My Living Donor?" 

"

How Early Should I Start This Dialogue?"
Optimal Timing
Important questions like these must be addressed long before the patient is in need of dialysis to ensure appropriate time is available to plan and prepare. Inspiriting living kidney donor offers and testing potential donors takes time—often years. The evaluation process for the potential recipient also takes time, but it shouldn't squelch the potential live donor engagement process. Those who wait to start this process at the time of need are risking far too much.
"Even Though Some Patients Know It's Best To Avoid Dialysis,
They Don't Have The Skills To Champion The Process."
At the TransplantFirst Academy's founder, Risa Simon, instilled the wisdom she discovered as a preemptive transplant recipient to inspire all eligible CKD patients to seek a more proactive path for circumventing dialysis. Her pioneering efforts toward patient self-advocacy and empowerment have become the core fibers in the TransplantFirst Academy's foundational vision.
The TransplantFirst Academy is dedicated to bridging the missing link in CKD patient education and CKD patient empowerment, by providing healthcare providers an advanced education system beginning at early stages, before illness advances or depression sets in.
"When CKD Patients Are Exposed To Advanced Information Regarding Renal Replacement Therapy (Shortly After Their Initial Diagnosis), They
Are Better Equipped To Fully Participate In & Proactively
Advocate For Their BEST LIFE Possible."
– Risa Simon, Founder TransplantFirst Academy
CKD patients need to secure a better life for themselves by becoming more engaged in the process long before illness advances. Let's give them their best shot at living the quality-of-life they deserve.  Inspire your patients to seek a better future by offering this exceptional learning system in your office. Visit: www.transplantfirst.org