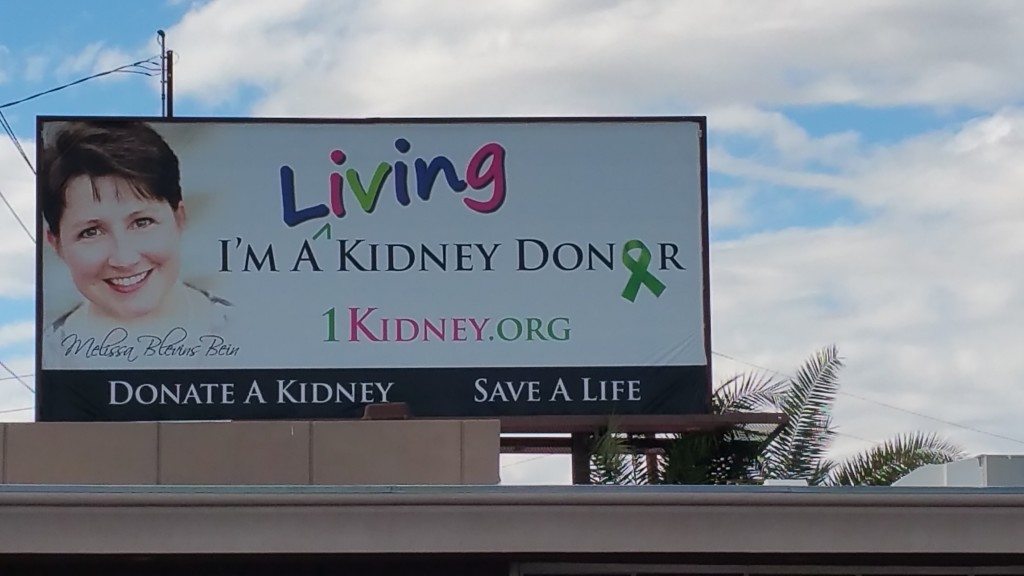 Melissa Blevins Bein is honored on theTransplantFirst Academy's Living Kidney Donor "Tribute for Awareness" Billboard Campaign, in downtown Phoenix during the week of Christmas 2015 – The ultimate gift. Want to get more billboards up? Make your contribution: http://transplantfirst.org/campaigns-projects/
TransplantFirst Academy hopes to make a difference by raising community awareness of living kidney donation. Recently, TransplantFirst Academy urged Phoenix Mayor Greg Stanton to approve a proclamation in honor of living kidney donors for their brave gift. The proclamation was approved to be recognized throughout the month of January.
"Most healthy individuals don't realize that they can donate one of their kidneys and make an immediate impact on someone's life," said Risa Simon, founder and CEO of TransplantFirst Academy. "The mayor's proclamation combined with our billboard campaign, a tribute showcasing real-life living kidney donors, aims to expand awareness."
"Since living kidney donors don't wear a Medal of Honor or a superhero's cape, it's often hard to recognize them. Their decoration of a few tiny scars is a unique distinction of lifetime achievement for the role they played in saving lives."
Living kidney donation is not for everyone. It takes a very special and healthy person to qualify. Simon added, "Kidneys are hard to come by and our nation's deceased organ supply simply cannot meet the demand. We hope that our billboard campaign makes people aware that they can make an impact now, not just after they are deceased."
TransplantFirst Academy's billboard campaign goal is simple:
1. Honor living kidney donors for saving more than 132,160 lives (2,834 lives in Arizona) as of December 25, 2015.
2. Capture community attention that ignites interest in living kidney donation.
3. Save lives by ending the life-threatening wait for those in need.
As a passionate patient advocate and preemptive transplant recipient, Simon said, "When my living donor stepped forward on my behalf, I received more than a highly functioning kidney. I received a sense of duty to advocate for all those facing this reality."
About TransplantFirst Academy:
TransplantFirst Academy is a 501c3 non-profit organization based in Phoenix, Ariz., dedicated to empowering and improving kidney patient outcomes. For more information, visit transplantfirst.org. To become a sponsor or request an interview, contact Risa Simon at 480-575-9353 or risa@transplantfirst.org.
# # #