Programs for Kidney Patients & Professional Healthcare Audiences
 The Donor-Seeker's® Communication Advantage:   
Empowering Patients to Become Donor-Magnet® Pro's
About The Program:
The thought of having to find someone willing to donate a kidney can be undeniably overwhelming. The challenge only intensifies when candidates aren't provided guidance on how to go about the process.  This program was created to bridge-the-conversation-gap, offer empowerment strategies and boost living kidney donor opportunities and good fortune.
Topics include: 
The Art of Story Telling: Script It, Practice It & Role Play with Others
Your Strategic Plan for Unleashing "Donor-Need" Awareness  
The Key to Enlisting A Tribe of  Donor-Seeking "Worker Bees"
Customizing Communication Materials  
Managing Social Media & Local Networking
Using Breakdowns & Disappointments to Break through to the Other Side
Optimizing the Law of Attraction to Connect Positive Intentions to Positive Results
The Importance of Following-Up, Tracking—and more. 
Early Donor-Seeker® adopters have an opportunity to become Donor-Magnet® Pro's, attract potential donors and bring their dreams to life.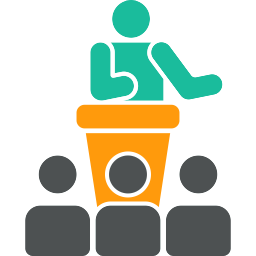 About The Speaker: Risa Simon is best known for her Enthusiastic Cheerleading, Engaging Communication Style and Unstoppable Desire to empower kidney patients to proactively secure their best life possible.
As a Certified Management Consultant (CMC) and 4x published author with more than 3-decades of motivational speaking experience, Risa found herself challenged by her corporate-career goals after her 25-year-old kidney disease diagnosis began its downward spiral. Jolted by concern, she discovered an exciting opportunity to help herself and others. This serendipitous swing empowered her to "shape-shift" her speaking and consulting experience as an advocate for the renal community.
Following the belief: "To Advance Forward is to Give Back," Risa actively volunteers for kidney patient organizations like the PKD Foundation, NKF's Peer Mentoring & Advocacy Programs, ATF's 1+1 Life Mentorship Program and as an AAKP Ambassador Advocate.
In addition to her volunteer roles, Risa is the founder and CEO of TransplantFirst Academy, The Proactive Path and Simon Says Seminars, inc., where she proudly emboldens kidney patients to visualize their new North Star; a better and longer life.
Her thought-provoking seminars, action-oriented workshops and motivational keynotes offer both patient and professional healthcare-provider audiences highly-relatable content, with visually-stimulating graphics and animations.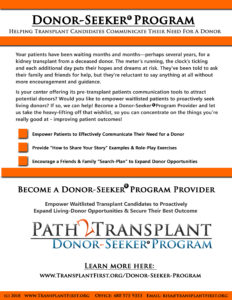 For more information on Seminars, Workshops, Online Webinars and Motivational Keynotes, contact our founder, Risa Simon.  
Office: 480.575.9353